RAVENOL Motogear SAE 80W-90 GL-5
RAVENOL Motogear SAE 80W-90 GL-5
is a mineral-based motorcyle gearbox oil formulated to ensure optimum gear lubrication in all conditions. Designed to offer a stable oil film to reduce friction and prevent wear and corrosion.
Application Notes:
RAVENOL Motogear SAE 80W-90 GL-5 is suitable for use in all manual transmissions of both 2-and 4-stroke motorcycles where an oil of SAE 80W-90 API GL-5 is required.
Specifications:
API GL-5
Characteristic:
RAVENOL Motogear SAE 80W-90 GL-5 offers:
A high-pressure stable lubricating film.

Reduced gear noise and excellent power transmission characteristics.

Very good oxidation stability.

Enhanced detergent and dispersant characteristics.

Very low foaming properties.

Extremely good resistance to aging.

Very good viscosity-temperature behavior.

Exceptional wear protection.

Extremely good corrosion resistance, does not attack ferrous metals.

Compatible with all types of sealing materials.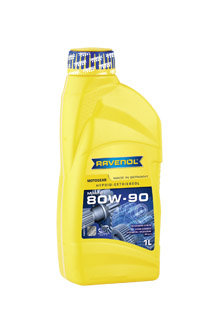 貨號: 1250070
包裝:

1L|1250070-001-01-999
4L|1250070-004-01-999
所有數據均為約數,受習慣的變化。