RAVENOL Fork Oil Light 5W
RAVENOL Fork Oil Light 5W
is a fully synthetic fork oil on ester base which was developed for all forks of high performance motorbikes and especially for USD forks. The synthetic components and the excellent viscosity index of
RAVENOL Fork Oil Light 5W
offer an optimum damping behaviour at all temperatures as well as an excellent air separation behaviour under all operating conditions – even during racings.
Application Notes:
RAVENOL Fork Oil Light 5W was developed for the use in all chassis components of two-wheeler vehicles and offers excellent power characteristics. In order to obtain the optimum viscosity for the vehicle and operating condition the fully synthetic fork oils are miscible among each other.
Quality Classifications:
RAVENOL Fork Oil Light 5W is practice-related and tested for the use in aggregates of:
Specifications:
ISO 7308, DIN 51 524, Part 2
Practice and tested in aggregates with filling:
Yamaha, Kawasaki, Honda, Aprilia, BMW, Suzuki, Ducati, Triumph, Moto-Guzzi
Characteristic:
RAVENOL Fork Oil Light 5W offers:
Good damping characteristics at all temperatures.

A high and stable viscosity index.

An excellent protection against corrosion, therefore a longer endurance of the fork components.

As far as possible protection against corrosion of the inside components.

A very good air and water separation behaviour to prevent foam formation.

Neutral behaviour against sealings made of plastics.

A very low pour point.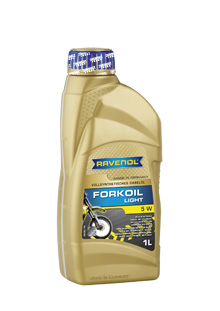 貨號: 1182102
包裝:

1L|1182102-001-01-999
4L|1182102-004-01-999
所有數據均為約數,受習慣的變化。