RAVENOL Motogear SAE 10W-30 GL-4
RAVENOL Motogear SAE 10W-30 GL-4
is a semi synthetic multi-grade motorcycle gear oil based on the latest synthetic technology together with special esters, specifically formulated for easy operation even under extreme operating conditions. Designed for use in both 2-and 4-stroke machines with separate gear lubrication and wet clutch, it allows accurate and smooth shifting and prevents the clutch slipping. Forms a highly resistant lubricating film which protects under all operating conditions.
Application Notes:
RAVENOL Motogear SAE 10W-30 GL-4 is suitable for year round use in all modern Japanese motorcycles, both 2- and 4-stroke, which require this grade of gear lubrication.
Specifications:
API GL-4
Practice and tested in aggregates with filling:
YAMAHA
Characteristic:
RAVENOL Motogear SAE 10W-30 GL-4 offers:
Fast lubrication and rapid circulation under all operating temperatures.

A heavy-duty lubricant film under all operating conditions.

Precise, smooth shifting, no clutch slippage.

Excellent detergent and dispersant capabilities and a high resistance to aging.

Compatible with all types of sealing materials.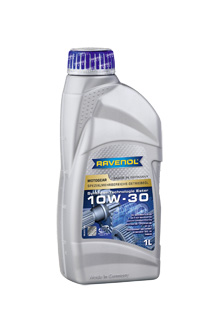 貨號: 1250100
包裝:

1L|1250100-001-01-999
4L|1250100-004-01-999
所有數據均為約數,受習慣的變化。